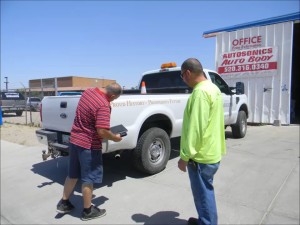 Getting an estimate after an auto accident can be  very overwhelming and intimidating experience. We have put together some commonly asked questions to help you.
Where do I start after I have been in an auto accident?
 Step 1: Call your insurance agent. Your agent will take a report of the accident and will then give you a claim number.
 Step 2: Call Autosonics Autobody & Collision. We can help with towing your damaged vehicle and setup a rental vehicle through Enterprise. We can help you with any collision repair concerns you might have.
 Do I have the right to choose the body shop?
Yes. Your insurance company cannot insist that you use a particular shop or require you to get more than one estimate. Ultimately, choose a shop that you feel comfortable doing business with, the vehicle owner has the right of choice. Remember, insurance companies cannot insist on a particular shop. Exercise your right to choose.
 The Insurance Company might tell you:
"We only guarantee repairs from our Preferred Shops | Service First Shop | DRP Shop"

 The Facts:
All reputable repair facilities guarantee their repairs for as long as you own the vehicle. Regardless of any insurance guarantee, the repair facility is the one who will have to guarantee the repairs. Choose a repair facility that has a good reputation, who guarantees repairs as long as you own the vehicle, and has been in business for many years. Check with your local Better Business Bureau. Autosonics Autobody & Collision is an accredited business with an A+ rating.
What the Insurance Company may say:
"The repair process will take longer if you do not use a Preferred Shop | Direct Repair Shop."
 The Facts:
This is not true. An adjuster may need to look at your vehicle, but that does not delay the repair process. If you come in for an estimate, we can  schedule you in immediately. The insurance company may or may not have an adjuster look at the vehicle.
 Do you offer a warranty on repairs performed at your shop.
 Our workmanship carries a limited lifetime warranty.  The manufacturer or vendor guarantees parts and sublet repairs.
 Where Do I Get A Claim Number?
Your insurance company issues you a claim number when call in and you report your accident. Just write it down and bring it in with you when you come in to begin the repair process.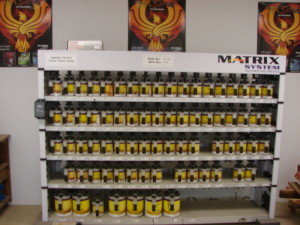 Can You Match the Paint Color?
 The manufacturer installs a paint code in your vehicle that allows us to mix paint specifically for your vehicle. We mix your paint to make the perfect color match. Our computerized Matrix Refinish mixing system produces a color formula from a combination of over many different color tints. Today's modern factory finishes blend multiple layers of highly specialized paints. We have invested in this paint system and upgrade its technology to make sure that each vehicle's paint matches. We take pride in our ability to match factory finishes.
 [hr]
 The insurance company said if I did not take my vehicle to a shop not on their preferred list | Direct Repair Shop I would be responsible for anything unpaid. 
 Let us help you in negotiating your claim with the insurance company. The insurance company ultimately has the same goal and that is customer satisfaction. We have been dealing with insurance companies for over 18 years.
 Differences in repair estimates are very common in today's industry. A lower estimate may not include all necessary work to restore your vehicle to its pre- accident condition. If you are not sure why one estimate is different from another, please ask us and we will be more than happy to help you.
 Do not be surprised if the insurance estimate is lower than the body shop's estimate. Insurance companies often specify used parts if available to keep the estimate low. If more work is necessary to complete the repair of your vehicle, we will contact the insurance company and ask for a re-inspection for the additional damage.

Do I Have To Get Two Different Estimates?
There is no law requiring you to get two estimates.  In most insurance cases, an estimate from a body shop is not necessary because the shop has to work directly from the insurance adjuster | appraisers estimate when doing the repairs. Obtaining two estimates is a courtesy to a person at fault who may be paying out-of-pocket.
 What is a deductible and who do i pay it?
Insurance companies share the cost when you are involved in an accident. That means that you pay the portion of the loss in the form of a deductible. The deductible is the part that you pay out of your own pocket. If your car is damaged and the cost to repair it is $1,000, and you have a $250 deductible, you pay the first $250 and your insurance company pays the $750 balance. The deductible is paid directly to the shop once repairs are completed.
What are "betterment" charges?
 Parts that wear out and need replacement over time (tires, batteries, electrical, suspension parts) are subject to betterment charges when they are replaced during the repair process. These betterment amounts are set by your insurance company and are pro-rated based on the miles on your vehicle.
What forms of payment do you accept?
We accept cash, personal checks (with check guarantee card) insurance checks and all major credit cards.
What is an estimate?

An estimate is an assessment for the damage of your vehicle, based on visible damage and the current costs of parts and labor to repair those damages. Unfortunately, even with our years of experience, it is still difficult to pinpoint hidden damages accurately. We will keep you updated of any adjustments to your original estimate. No extra work is done without your approval or the insurance company. We offer free no obligation estimates.
[hr]
Is your estimate correct?
We have given you a visual estimate. This means we have assessed your car's damage to the best of our ability based on what we can see. Once we tear down your vehicle, there could be other hidden damage. If there is, we will write an estimate for the extra and with your permission repair it and will work directly with your Insurance Company with any supplements.
Since the other party is at fault, why do I have to pay a deductible?
Your deductible is what you agreed to pay when you purchased your policy. If you are pursuing a claim under your policy, you may have a deductible. If the other party is at fault, your insurance company will pursue reimbursement of your deductible through that other party insurance.
Since the other party is at fault, why do I have to pay a deductible?
Your deductible is what you agreed to pay when you purchased your insurance policy. If you are pursuing a claim under your own policy, you may have a deductible. If the other party is at fault, your insurance company will pursue reimbursement of your deductible through that other party's insurance.
Who guarantees the workmanship | repairs of the repairs?
The shop that performs the repairs is responsible for any warranties and guarantees the repair. The repair is a contract between you and the repair shop. The insurance company is there solely to cover the reasonable cost to return the vehicle back to its original condition.
Why would an insurance company say "we cannot guarantee the repairs if you use that shop?"
It may want to steer you to one of their network shops | Direct repair or preferred shop. Insurance companies do not do repairs,  they do not guarantee the work, parts or any other accident related repair.
Will my insurance company pay for a rental vehicle?
Yes, if you have rental coverage. Also check with your agent or insurance company to see how much of the rental is covered; some policies pay the full amount, some will only pay a percentage. If the claim is a liability claim (the accident was not your fault), the full amount will be covered.
The insurance company wants to send me to a shop of their choice. What are my options?
By law, you have the right to choose the repair shop you would like to repair your vehicle. We will work with any reputable insurer to make sure the quick and efficient repair of your vehicle and processing of your claim.
ARS20-468. Motor vehicle loss; policyholder choice of repair facility
A. For repair facilities other than glass repair facilities and subject to the rights of an insurer to receive notice of loss or claim consistent with the provisions of its policy, a person in this state has the right to choose any repair facility for the repair of a motor vehicle loss. If an insurer provides information about a repair facility, the insurer shall inform the person of this right at the same time as making the recommendation or providing the information. This section does not create a private right or cause of action to or on behalf of any person.
B. If an insured or claimant selects a repair facility to repair the insured's or claimant's motor vehicle in which the insurer owns an interest in that repair facility, the adjuster for the motor vehicle shall not be employed by the repair facility or have any direct authority over that facility's recommendations or decisions relating to the repair of the insured's or claimant's motor vehicle.
What is subrogation?
Subrogation is the process by which your insurance company pays for the repairs to your vehicle, and is obligated to collect from another insurer or party. Your collision coverage will require you to pay your deductible, which may be refunded once the other party pays.
What will happen to the vehicle after it is totaled by the insurance company?
The insurance company will sell it to a salvage company, who will either dismantle for parts or resell it after repairing it.
What if I want to keep my vehicle after it is deemed a total loss?
You have the right to keep ownership of the vehicle, but the amount of the settlement could be reduced by the salvage value.